A Large & Startling Figure

The Harry Crews Online Bibliography


Portraits

Pictures of and words about Harry Crews.



Madonna Unauthorized.
Anderson, Christopher.
Dell, 1991.
The photographs section of the book contains a picture of Madonna and Sean Penn, then married, at the Tyson-Spinks fight held at Trump's Hotel and Casino in Atlantic City. The photo captures an evidently tense moment: Madonna in mid-sentence, turned to Penn, his hand held out to grasp her arm, a look of displeasure caught in the furrow of his eyebrows. In the background, a few steps back, stands Harry Crews, decked out in jacket and tie, his hands clasped behind his back. Neither the caption beside the photo nor the index makes mention of Crews's attendance at the event.
The cropping of the paperback version of the photo cuts across Crews's forehead. In the original hardback, the photo is larger, and Crews's expression, of consternation and discomfort, is more apparent.
Madonna, an ardent admirer of Crews's writing, invited Crews to attend the fight, paid for his flight there, and made accommodation for his visit. Crews's account of the fight, first published as "Madonna at Ringside," in Playboy, and then by Lord John Press, discusses the night at length.
Arriving at the convention center, their limousine encountered a large crowd of photographers. As they followed Madonna's bodyguard inside, and the crowd closed in, Crews observes, "Perhaps my uneasiness showed on my face" (6). Given Crews's aptitude for rendering in his novels the blood-lust of an angry mob, it's not surprising that he met the crowd with a bit of caution.
Once inside, Crews writes, "I don't think Madonna or Sean Penn could tell you what the ballroom looked like. Certainly I could not, blinded as I was by flashbulbs. Because when we went inside, the howling mob of photographers broke through the Trump Security and came in with us . . . I tried to tell myself that we were not in a lynch mob, that these people were just taking pictures."
One final literary association from all this. In past conversation, Crews has expounded on Madonna's bibliophilist virtue, the impetus, after all, for his ringside seat at the 91 second fight. In "Ringside," measuring Madonna's tastes, Crews makes his only reference in print to Charles Bukowski, who, Crews writes, "has always walked and worked close to the raw edge of death" (15) (much like Crews himself).
Later, when the Penns no longer included Madonna, a close association would develop between Sean Penn and Harry Crews, and Penn's own literary enthusiasm would emerge, interviewing Bukowski and reviewing David Rabe's only novel for Andy Warhol's Interview magazine, as well as purchasing the film rights to The Knockout Artist.
On second thought, it might just be the bodyguard.
Check availability from Amazon (paid link)
"A Nasty, Bloody Business: Learning to Write with Harry Crews."
Atkinson, Jay.
Poets & Writers Magazine 31.2 (2003 March/April).
Pages: 33-37.
A former Crews student, now novelist, profiles Crews as teacher, mentor.
Images: cover.
Whose Woods These Are: A History of the Bread Loaf Writer's Conference, 1926-1992.
Bain, David Haward and Mary Smyth Duffy, editors.
Ecco Press, 1993.
Pages: 99, 100, 103, 107, 110, 111, 123, 271, 272-273, 279, 284-285, 286, 297, 308.
Crews first attended the Bread Loaf Writer's Conference as a Fellow in 1968 and then as a faculty member for the years 1969, 1970, 1972, and 1973. If the many accounts of Crews in this history of the conference are any measure, Crews left an indelible impression on the writers and students who were there; indeed, Bain writes, "Crews, with his close-cropped hair, squinty eyes, razor-trimmed muttonchop sideburns, and infectious and flamboyant manner, developed an instant following."
Those writers who provide a glimpse of Crews in his early years include Robert Cormier ("magnetic, hell-raising, yet . . . an underlying and brooding sensitivity"), Seymour Epstein ("[Crews's] beetling brow and deep-set eyes and ferocious muscles made me wonder what I would do if I were ever confronted with a crisis of candor"), and Julia Alvarez ("I remember Harry Crews being absolutely riveting . . . He totally galvanized the imagination of his audience. You never knew what was going to happen. He used to come out from behind the lectern to talk, and he used to do this sort of Elvis Presley hip-thrust, keeping time to his lectures. He was wonderfully crazy.").
Several photographs of Crews reveal the dynamics and pyrotechnics of his personality. One photo shows Crews emphasizing words with the grasp of his hand at the center of an attending audience. Above a caption that reads, "Every lecture a performance," a remarkable sequence of four photographs illustrates the drama and energy Crews brought to his teaching. Another photo captures Crews alone on the dance floor, head back, arms held out as though bouyant in water, eyes closed in ecstatic bliss. In the collage of photographed writers on the cover of Whose Woods These Are, among contemporaries such as Norman Mailer, John Gardiner, and Richard Ford, Crews, caught with a wide grin across his face, his hair dishevelled in early-70s hippy fashion, sits back in a wicker chair on some Breadloaf porch.
Includes two excerpts from the Sterling Watson interview with Crews [see Watson (1974 Spring) Interviews].
Check availability from Amazon (paid link)

"Harry Crews."
Gods & Dogs: A Collection of Portraiture by Jim Blanchard.
Jim Blanchard, illustrator.
Seattle WA: Beef Eye, 1993
Pages: 4.
This deluxe 28-paged chapbook (singed & numbered in an edition of 2,000) features 25 of Blanchard's detailed and disarming b&w drawings of writers, actors, freaks, killers, and dogs, including Jim Thompson, Charles Bukowski, William S. Burroughs, Charles Manson, G. Gordon Liddy, Marx, and Nietzsche. $4.00 each. Contact Beef Eye, Box 20321, Seatle WA 98102 or visit Jim's Web site.
The Crews drawing, first published in Your Flesh #17, recreates the photo that appears on the back cover of Florida Frenzy, except to the background, Blanchard adds fanged, writhing snakes.

Self-Portrait: Book People Picture Themselves.
Britton, Burt, editor.
Random House, 1976.
Pages: 36.
Crews has contributed a sketch of himself.
Check availability from Amazon (paid link)
"Harry Crews: Mentor and Friend."
Brown, Larry.
Billy Ray's Farm: Essays.
Algonquin Books of Chapel Hill, 2001.
Pages: 17-28.
Essay first published in the Harry Crews issue of The Southern Quarterly [37.1 (Fall 1998): 8-12], then reprinted in Perspectives on Harry Crews [Erik Bledsoe, editor. University Press of Mississippi, 2001: 3-9]
Check availability from Amazon (paid link)

"Harry Crews, American Writer."
Dumas, Richard.
Internet.
Photograph likely taken during one of Crews's visits to France in the late 90s.

"Harry Crews in Gainesville."
Graves, Tom.
Gainesville, Florida: 1979.
Photographs.
Tom Graves shot a number of photographs of Crews to accompany his 1979 interview. Below, Graves briefly describes his lunch with Crews and the photos shot around the University of Florida campus that afternoon.
"The way it went was like this: mid-interview Harry asked if we wanted to take a break and get a pitcher of beer and maybe something to eat. I was pretty much starving, so I said yes. I took advantage of the break to load the camera—a borrowed Canon AE-1 as I recall—didn't then own a camera—with black & white film. The real moody black & white shot that Harry used twice in Playboy was a luck shot, happenstance. We were in the hall of the English building on campus standing under a lone lightbulb. I was doing a light reading and took a couple of test shots of Harry just to get the roll going as I recall. The shadows effects gave a very sober, moody feel that I, and obviously Harry and others, really liked. [Crews' Turlington Hall office]
We went to the Rathskeller and it was closed. Harry cussed it and gave the door a karate kick much to my amusement. We went to a burger-bar and Harry graciously paid for my burger and the beer we drank. One funny thing I remember: When Harry was paying at the cash register he got to talking to someone across the room he knew. He had his hand open to get his change from the cashier—a young co-ed—but wasn't paying any attention to her at all. She wanted to give him the change, but hesitated until they made eye contact. Well Harry talked and talked and finally this girl took her index finger and poked Harry in the palm to get his attention. It worked. The girl and I both got a chuckle out of that. I don't think Harry really noticed.
After the interview wound down I loaded a roll of color film and we went back to the grassy knoll on the campus and shot pics there [color: 1, 2 & 3; black & white: 4 & 5] and in some doorways, etc. We parted after the shots—Harry went back to the English bldg. and I walked to a row of shops and called some friends of my family who picked me up and took me to that chain of bar-b-q restaurants y'all have down there, John Bryant's or something like that."
[See Graves (1980-81 Winter) Interviews]
"To Harry Crews."
Johnson, Michael L.
Kansas Quarterly 8.4 (1986 Fall).
Pages: 42-43.
A poem about Crews.

"Naked in Garden Hills."
Harry Crews.
Lydia Lunch, et al.
Widowspeak Productions, 1990.
Sound Recording: LP/Cassette/CD.
"Harry Crews, the band, toured Europe from Sep. 1 till Sep. 24, 1988. The album was recorded live at the Mean Fiddler, London and in Vienna, Austria by Vienna Radio." [from liner notes]
Includes 9 songs: Man Hates a Man, Distopia, Gospel Singer, Knockout Artist, (She's in a) Bad Mood, The Way Out, Bringing Me Down, Car, S.O.S.
Band members include Kim Gordon (of the band Sonic Youth), Lydia Lunch, Sadie Mae.
The liner notes feature a collage of band members and several photos of Crews from his dust jackets. Also, a short text written by Byron Coley characterizes the band members as "brightly colored chickadees" flying around Crews, "a 200 pound sparrow hawk going in for the kill."
The songs, marginally related to the novels, are at best, passable thrash, of the loud, abrasive, dissonant kind. At worst, the music is a poor attempt to cajole the audience into reading Crews's books. Among the various appeals to the audience, "We're trying to get people to read," and "Say no to the sky channel, say yes to the book."
Lydia Lunch says: "Harry Crews, a man by the same name as the band. I know it's confusing cause you never heard of him. You might have heard of her [Kim Gordon]—you might have heard of the wrestler on the drums—but you never heard of the man beause in this country, what the fuck have you heard of? But that's what I'm here for—educational reasons . . ."
"Harry Crews. A man that looks like one of those kind of dogs that ain't got no fur on their body that are full of wrinkles. He wrote about 10 of my favorite books . . . You'll never get any cause they aren't published here, that's why we caused the band to be created to inform you about the songs taken from the books that we stole and ripped off from the man that couldn't be here tonight because what the fuck would he want to come here for?"
On the other hand, the enthusiasm of the Harry Crews band reflects the renewed interest of Crews's work in the late 1980s.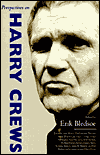 "Is Your Novel Worth a Damn?"
McLaurin, Tim.
Perspectives on Harry Crews
Erik Bledsoe, editor.
University Press of Mississippi, 2001. Pages: 11-13.
Essay first published in the Harry Crews issue of The Southern Quarterly [37.1 (Fall 1998): 13-14].
Check availability from Amazon (paid link)
Images of the Southern Writer.
Morrow, Mark.
University of Georgia Press, 1985.
Pages: 14-15.
Brief text about Crews, and a photo of him, mustached and grinning, probably taken in the early 1980s, at ease at his home in Gainesville. Also, photos of Andrew Lytle, who started the creative writing program at the University of Florida, and poet Donald Justice, who also taught at the University of Florida in the 1980s.
Check availability from Amazon (paid link)
"On the Home Front: Larry Brown's Narrative Landscapes."
Rankin, Tom.
Reckon: The Magazine of Southern Culture (1995 Fall).
Pages: 90-101.
Crews has offered considerable support for Larry Brown's work over the last few years, including memorable blurbs for the backs of Brown's books ("Whatever he writes next I will read," perhaps Crews's most flattering admission). When Larry Brown read from his new novel, Joe, on October 18, 1991 in Gainesville, Florida, the after-reading party was held at Crews's house in the woods.
In this interview, Larry Brown quotes two of Crews's pedagogical truths about writing: "Harry Crews said—maybe not necessarily written by moral men and women, but he said it's always about whoever kicked who when they're down and whoever reached down and gave them a hand to help them back up" and "I've heard Harry Crews talk about that, about the best stories—and Clyde Edgerton says the same thing—the best stories are not being told on the front porch where all the men are. The best stories are being told back in the kitchen where all the women are." Crews peppers every lecture, reading, and conversation with quotes from Faulkner, O'Connor, and many others. His interviews are stocked with his own literary insights. It seems fitting that Crews's own words and tenets have been taken up by those he has inspired.
"Harry Crews, Spring 1995."
A Portrait of Southern Writers.
Curt Richter, Photographer.
Hill Street Press, 2000.
Pages: Not paginated.
Richter's photo exhibition of portraits entitled "Faces and Stories" is captured in this book who's-who of contemporary southern authors, including Crews.
Check availability from Amazon (paid link)

"Getting Naked with Harry Crews."
Ring, Kevin.
Beat Scene 36 (2000).
Pages: 34-35.
Ring's second article on Crews for this Beat-oriented magazine [see "Harry Crews and Things that Swim in the Night" in Beat Scene 36 (1995): Interviews] takes an informal look at his writing and personal life and features several full-color scans of book covers.

"December 1997."
Sauve, Damon.
Gainesville, Florida: 24 December 1997.
Photograph.
For the holidays we drove from Chapel Hill, North Carolina, to Miami, Florida, to visit our folks. On the way down, Chad, Tina, and I passed through Gainesville. We arrived late Tuesday night and hung out with the poet Craig Nelson at Nelly's Bar, then ordered and ate pizza back at our room in a decrepit motel off SW 13th Street.
The next morning was Christmas Eve, but in Florida, warm and muggy as ever, it might as well have been the fourth of July. We called Harry and asked if we could visit a while. Harry was pleased to hear from us, welcomed us over, and promised to make coffee.
Harry brought us in and prepared a new pot of coffee. As he talked about his book in progress—he had been up for several days working on it—Harry prepared the coffee by counting out ten scoops of Louisianne, much the same way he described making Louisianne iced-tea in Celebration.
The three of us found chairs in his sunken, Florida-style living room. Harry sat in his usual spot, a well-worn leather easy-chair. Behind him was a wall-length book case filled with hardcover and paperback editions of his books, including a number in translation, and framed photographs of his son. Above a low bricked fire-place set in a dark wood-panelled wall was an oversized photo of a hawk perched on his gloved arm. Two large sliding glass doors faced out on his back yard, green and lush, even in December. A wood porch, raised above the ravine below, extended out under the hammock of the trees. We talked for an hour or so until Harry asked if we had eaten breakfast, and since we hadn't, he invited us out for lunch. Harry recommended a place that George, a lady-friend, often took him. A kind of gourmet deli that served home-cooking and made a good sandwich as well.
After a brief drive in Harry's compact car (we were all surprised to find out that his trademark black Ford mini-truck was long gone) we arrived at the restaurant. The lunch was tasty, and the service was sharp. During our meal, in fact, it became obvious to us that of all the tables in the busy restaurant, our table was receiving a disproportionate amount of attention from the wait staff. It might have been chance that a different waitress appeared every five minutes to ask us the same questions: how was our lunch and did we need anything else. More likely, the attention was due to Harry's good humor and unexpected magnetism which seemed to attract peoples' best hospitality.
Back at his house, after a quick stop at a convenience store to pick up some Swisher Sweets, we asked Harry if we could take a few pictures using the Christmas present Tina and I had given Chad, a Polaroid camera. Harry graciously accepted our request, and we all hammed it up.
Pictured: Harry Crews, Tina, and myself.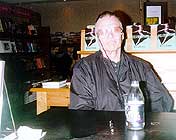 "Harry Crews at Book Signing."
Sauve, Patricia.
Miami, Florida: 17 January 1998.
Photographs.
Promoting Celebration, Crews travelled to Miami for a book signing at the Barnes & Noble off Kendall Drive. My mother, who has assisted with much of the research for this bibliography and has never seen Crews in person, finally had the opportunity to meet him. While Crews spoke, she took several photographs of him (with his permission) using the Sauve-family Kodak 110.
Crews was seated at a table in front of a small audience. Behind him, on display, were copies of his new novel, Celebration. Crews admitted to the audience that he was tired and did not feel well, but he offered to sign books and to answer questions.
In response to one question, Crews highly recommended James Crumley's The Last Good Kiss. Crews also said that he had sold the film rights to 3 of his books: Car, A Feast of Snakes, and The Gypsy's Curse (to French producers).
After the appearance, Crews—accompanied by George, his partner—walked out of the bookstore. Outside on the sidewalk, they were overheard discussing where to go for dinner.
Southern Writers.
William Starr.
David G. Spielman, photographs.
University of South Carolina Press, 1997.
ISBN: 1-57003-224-6.
Pages: 44, 45.

Photographs of 72 Southern writers. Crews is pictured sitting in his Gainesville living room. Starr's accompanying text includes a general account of Crews's life and work and a brief description of his daily writing habits.
Check availability from Amazon (paid link)
Calling, The.
Watson, Sterling.
Dell, 1986.
The second novel by Watson, a former Crews student (see "Arguments Over an Open Wound: An Interview with Harry Crews" Interviews) portrays Toad Turlow, a creative writing student, and his teacher, Eldon Odom, whose character and circumstance bear striking resemblence to Crews.
It was Eldon Odom's voice that sang in my head. He had called me to this rented room . . . in Bainesborough, Florida. Six years earlier I had found his first novel, Naked in Church, in the library." [1]
A note prefaces the book:
Readers who look for the real geography of North Florida in this book will not find it. Forms and degrees of the real are here, mixed, as they always are in fiction, with the exaggerated, the fabricated and the fantastic. I am not I, he is not he, she is not she and they are not they. We are all fiction, and therefore real.