A Large & Startling Figure

The Harry Crews Online Bibliography


Excerpts

Novel excerpts appearing in periodicals, anthologies, or other publications.



Closers: Great American Writers on the Art of Selling.
Mike Tronnes, editor.
St. Martin's Press, 1998.
Pages 30-41.
ISBN: 0-312-18068-3
Reprints the first chapter from The Mulching of America.
Check availability from Amazon (paid link)

Roy Blount's Book of Southern Humor.
Roy Blount, Jr., editor.
W. W. Norton, 1994.
Pages 325-330.
Excerpt from Car.
Check availability from Amazon (paid link)
Georgia Voices Volume One: Fiction.
Hugh Ruppersburg, editor.
University of Georgia Press, 1992.
Pages 395-413.
A Feast of Snakes [excerpt].
A collection of Georgia writing from early Georgia history up to 1989.
Check availability from Amazon (paid link)

Fall Fiction from Poseidon (1990)
Two Girls, Fat and Thin; Spider; Body.
Poseidon Press, 1990. Pages: 47-75.
Advanced, uncorrected proof and marketing material for Two Girls, Fat and Thin, by Mary Gaitskill; Spider by Patrick McGrath; and Body (chapter 1).
Playboy
37.8 (August 1990): 64-66,88, 153-156.
Excerpt from Body.
Florida Stories.
Kevin McCarthy, editor.
University Press of Florida, 1989.
Chapter 1 of Karate Is a Thing of the Spirit.
Check availability from Amazon (paid link)
Voices of the Heart.
James Blake & JoAnna Falco, editors.
Needham Heights MA: Ginn Press, 1988.
Pages 53-62.
An anthology of writers appearing at the 1988 Miami Book Fair International. The works of 24 authors are represented, including excerpts from Barry Hannah, Charles Willeford, and Harry Crews.
"'Auto-Town' is excerpted from Car, the story of a man who determines to eat, from bumper to bumper, a new Ford Maverick" [from the introduction].
[See also book review by Lois Wolf, "Some Answers to the World's Age-Old Problems" in The Miami Herald (1988 November 13).]

Playboy
23.7 (July 1976): 139-140, 198, 200-202.
Excerpt from A Feast of Snakes.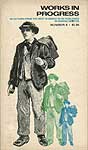 Works in Progress.
Martha Saxton, editor.
Number Eight.
The Literary Guild of America, Inc., 1973.
Pages 46-66.
Excerpt from The Hawk is Dying.
"Works in Progress publishes fiction and nonfiction selections from the best in books to be published in coming months."